High power 300mw green laser pointer with very even lighting beam can be used in leisure commentary outdoor and constellations pointer. The green laser light beam is so clearly visible at night. For remote accurate indication / measurement target building or mining field, to avoid approaching the danger zone, so you like to direct a kilometer away. Marking pointer of construction sites such as bridges and walls in the plant or construction site. The focus adjustable, I'll be adjusted by the fact, you can be satisfied with the wide range of people.
Product Features:
1. appearance straight tube design, the surface adopts like, are Rubberized
2. material by air aluminum, can be treated with electroplating surface, have a smooth feel
3. focus It is adjustable, you can burn matches when determining the powerful green laser pointer 300mw
4. 18650 rechargeable battery, cruising function is strong, can be used repeatedly
5. green light than red light six times more powerful, and guarantee the quality technology has matured
6. starry sky cap feature is not installed
Product Specifications :
Key Feature: green laser
Material: Aviation aluminum
Surface Treatment: Silver plated ,feels smooth and nice
Operating mode :soft touch
Power supply: 1*18650
Wavelength: 532nm
Output power:300mW
Laser range: 500-10000 meters
Working voltage: DC3V
Working temperature: 0~+35Celsius degree
Size: 15mm*147mm
N.W: 57g
Adjustable Focus: continuous output
Advantages:
1. The 300mw laser pointer flashlight is straight cylinder, with floral pattern anti-slip lines on the surface, fells very cool
2. Aviation aluminum meterial with plating surface, feels smooth and nice
3. Adjustable focusing, could meet customers needs
4. 300mW adjustable focusing, could light matches ( black matches) and black shopping bags
5. 18650 rechargeable batteries, can be used repeatedly
6. Green light as a classical laser source, the intensity of light is the 6 times of the red light, with high technology and reliable quality.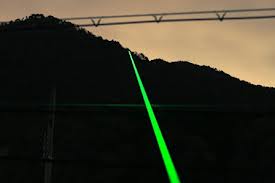 Packing Details :
1x 532nm green laser pointer flashlight 300mW with adjustable focus
1x packing box